5 December 2020: Kerry hosts a murder mystery party on Zoom.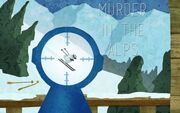 High up in The Alps, a group gathers to enjoy the stunning views, romantic atmosphere and, of course, the best skiing in the world. The group stays in a chalet that allows them to ski on-piste to the door. A nearby village provides all modern amenities, and the skiers enjoy warming up after a long day on the slopes in the hot tub on the terrace or in front of a fire in the common area.
A morning of skiing comes to an abrupt end however, as the slopes are suddenly closed, and everyone is asked to return to their accommodations. As the group settles into the chalet, a gruesome discovery is made: A man lies dead outside the chalet, struck and stabbed with a set of ski poles! Who is the mystery man? Who killed him, and why? What happened to close the slopes so suddenly?